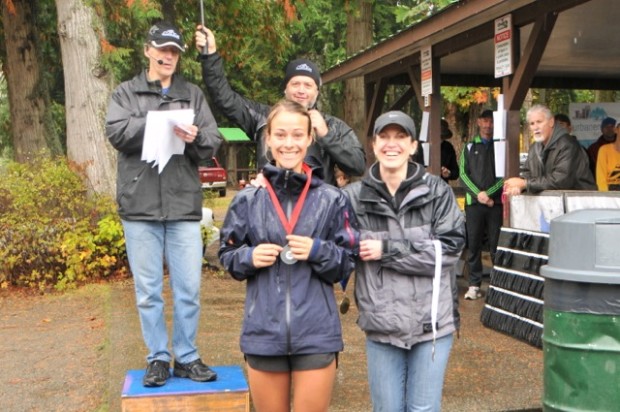 Welcome to 15th annual Give'r Take 30!
Join us on Saturday, October 14th, 2017 for a 30km Solo,
2 Person Relay (16km/14km) and a 60km Individual.
How could the Around the Lake Give'r Take 30 be made even better?
With a new route, and added distance to make it a truer 30 kilometre route! The 15th annual edition of the race, to be held October 14th this year around scenic Cultus Lake will include much of the same route along beautiful forested trails, but with some new sections to add to the challenge as well as distance.
This means that as of this year, with a new route, there will be a new race record established, as the record for the original course is retired. It was set in the race's first year at 2:10:32. 
When: Saturday, October 14th, 2017
60k start time: 5:30 am (Further information emailed out to Ultra participants only)
Relay and Full 30k start time: 9:00 am
Where: Start and finish lines are at Main Beach, Cultus Lake
Directions to race from Vancouver:
Directions to race from Hope:
Second half participants and pick up drivers for first half runners.
Directions from Cultus lake main beach to Watt Creek. 
Package Pickup: Friday, October 13, 2017
Garrison Running Co
#2, 45590 Market Way,
Chilliwack, BC V2R 0M6
604-705-1221
From: 2:00 – 8:00 pm
There is No Registration signups on race day.
Race Day Schedule:
 Check-in starting at 7:00 am
Package pick up will be available from 7:30 to 8:30 am
8:30 am briefing
9:00 am start
Aid/Water Stations:
#1 top of Sunnyside up at Kerry'd Away: approx. 7 km.
#2 Columbia Valley Highway: approx. 15 km.
#3 Watt Creek Parking Lot: approx. 17 km.
#4 Clear Creek Turn: approx. 24 km.
#5 Bottom of Edmeston Hill, on Edmeston Rd: approx. 3 km. from the end
Timing: Timing will be provided by TRIO Sports Events.
Parking: There is pay parking in effect at Cultus Lake. Cash or Credit cards are accepted.
Volunteers: Without volunteers this run would not happen, please be very kind to them!
Washrooms: Start/Finish area at Main Beach
Aid Station Food: The usual trail run fair (fruit, chips, candies, water, Gatorade). If you prefer something special, we suggest that you carry it with you.
Awards: At the finish area 1:30 pm
DNF: Runners who decide to withdraw from the race must report their decision to the registration table. Please do not go home without reporting that you have withdrawn.